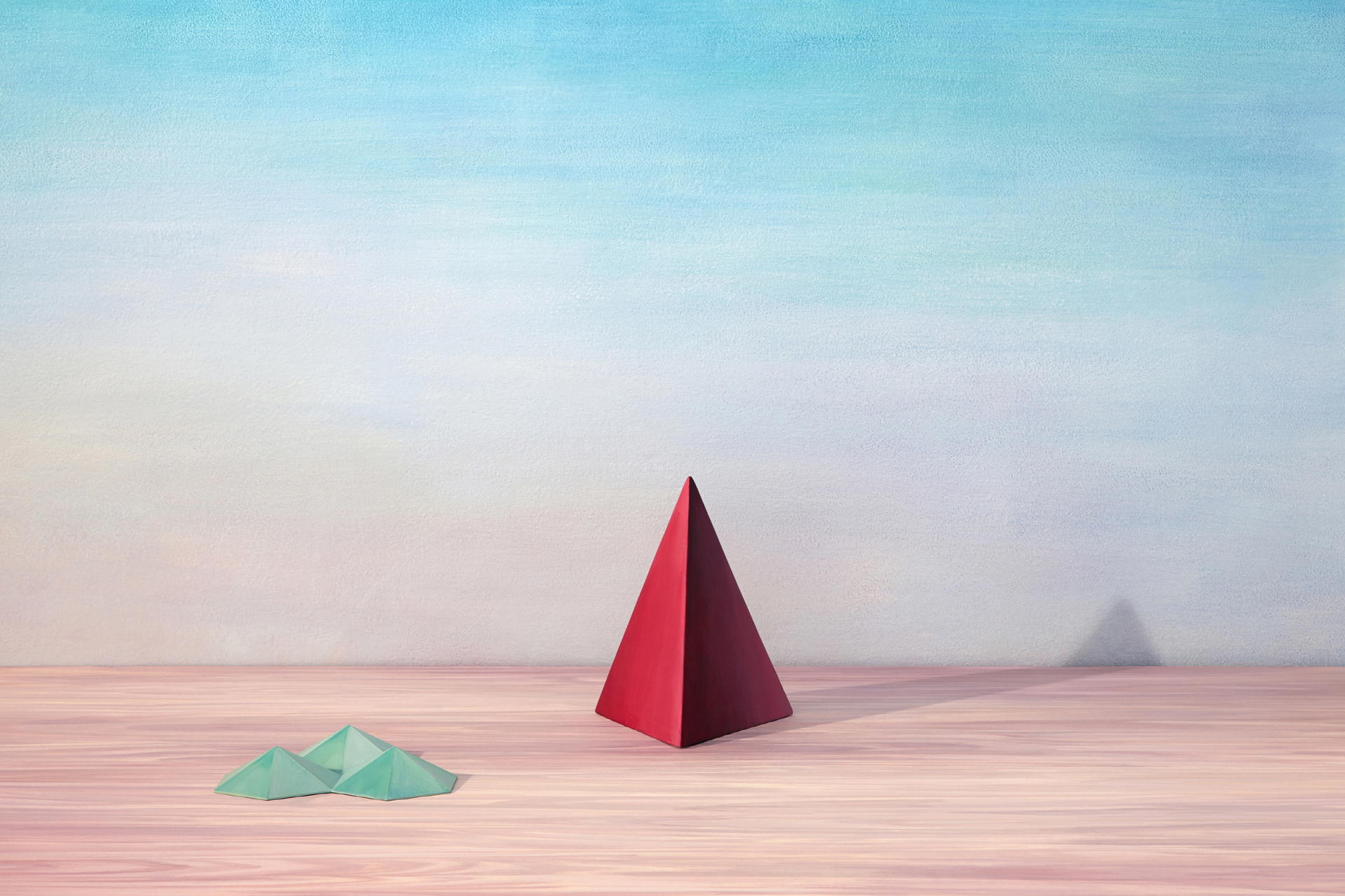 삼각뿔, 146x217cm, Inkjet, Edition of 3, 2014
"Story, Solid, Painting, Photography, and something"
YOO HYUN MI
---
유현미의 작업은 표면적으로 리얼리즘 회화와 유사하다. 작가는 작업실 내의 일정 공간을 설정하고 공간 전체를 2차원의 캔버스에서의 배경으로 삼는다. 그리고 작가가 선정한 사물들이 배치된 이후에는 공간과 사물의 표면에 석고나 젯소 등으로 회칠을 하여 마티에르를 만들고, 유화물감으로 그림을 그린다. 그리고 최종 완성된 입체공간을 촬영한다. 이렇게 완성된 사진작품에는 건축, 조각, 회화, 사진 등의 많은 미술 장르들이 누적되어 있다. '현실에 근거한 비현실이 더 환상적이다' 라는 작가의 멘트처럼 피사체에 칠하고 덧붙이며 새로이 만들어진 가상공간을 사진의 기록성을 이용하여 그 가상을 현실로 만드는 것이다. 유현미는 서울대학교를 졸업한 후 뉴욕에서 석사과정과 APC를 거쳤다. 그녀는 회화와 사진의 결합을 통해 절대미를 찾고 있다.
At first glance, people might think Yoo Hyun-Mi's work as a realism painting. She applies three stages to her work, beginning with sculpture, then painting and completing the work as a photograph. First, She set up some space with objects in her workshop and makes a primary scene. Then she paints the surface with gesso or plaster and again with paints before she shoots the final scene.
Her photography is a combination of many different genres such as architecture, sculpture, painting, photography and so on. "Illusion based on reality is much more fantastic." She makes reality from imaginary space which is modified and painted over through a recording nature of photography.
Yoo Hyun Mi received a BFA at Seoul National University and an MA at New York University (NYU). She has participated in numerous bienales such as Liverpool Biennial in UK, Asian Art Biennale in Bangladesh, and Daegu Photo Biennale, and has also presented in 15 solo exhibitions and 130 group shows at home and abroad including in London, NY, Singapore and Italy. She won the Il Woo Photography Award and Moran Arts Award, and her works have been collected by the Korean National Museum of Contemporary Art, Seoul Museum of Art, Gyeonggi Museum of Modern Art, Il-Min Art Museum, Amore Pacific and Posco Museum. She also has published Hourglass (White Block, Korea), The Cosmos (Hatje Cantz, Germany), Walking tree (Pink Frog, Korea) and Art Map (Cheng-aram Media, Korea).
[작가노트]
"새로울 것 그리고 반드시 아름다울 것." 이것이 내가 생각하는 창작미술이다.
사람들은 아주 잘 그린 그림을 보면 사진 같다고 감탄한다. 또한 아주 아름다운 사진을 보면 한 폭의 그림 같다고 한다. 왜일까?
어쨌든 사진과 회화 이 두 가지를 합친다면 정말 누구나 공감하는 절대미를 찾을 수 있을 테고, 그것이 내가 갈망하는 그 무엇이 아닐까 생각했다 . 그래서 그림 같은 사진 혹은 사진 같은 그림을 만들어보고 싶었다. 여기에 조각까지 하나 더 붙인다면....이렇게 하여 나의 작업이 태어났다.
현실의 내부공간에 일상사물을 닮은 오브제나 조각을 설치하고 그 위에 회화처럼 칠을 한다 밝고 어두운 명암을 주고 그림자와 빛을 그린다. 그리고 사진으로 찍어 완성한다. 이렇게 완성되는 일련의 작업들은 꿈과 현실의 경계가 모호한 사진으로 완성되며 조각과 회화, 사진의 프로세스를 모두 거치며 장르를 넘나드는 환영을 보여준다. 2차원과 3차원 그리고 꿈의 차원과 현실의 차원, 미술장르 간의 차원들이 만들어내는 모호한 경계감은 감상에 따라 다르게 느껴지는 잡힐 듯 잡히지 않는 묘한 시각적인 유희를 제공한다.
"It should be new, and it must be beautiful."
It is my opinion about art.
People admire a very well-drawn art as if it looks like a picture. Also, they look at a very beautiful picture, they say it looks like a art. Why?
Anyway, if you combine the two things (picture and art), you can find the absolute beauty that anyone can really agree, and I thought it would be something I crave. So I wanted to make a picture like an art or an art like a picture. By adding sculture to this...This is how my artwork was born.
In the inner space of reality, objects or sculptures that resemble everyday objects are installed and painted on them like hand-paintings, giving them bright and dark, and drawing shadows and light. And take a picture and then complete it. The series of works completed with ambiguous pictures of the boundaries between dreams and reality, and shows a vision that crosses genres through the process of sculpture, painting, and photography. The vague boundaries created by the dimensions of two and three dimensions, the dimensions of dream and reality, and the art genre provide a strange visual play that seems to be caught differently depending on the sentiment.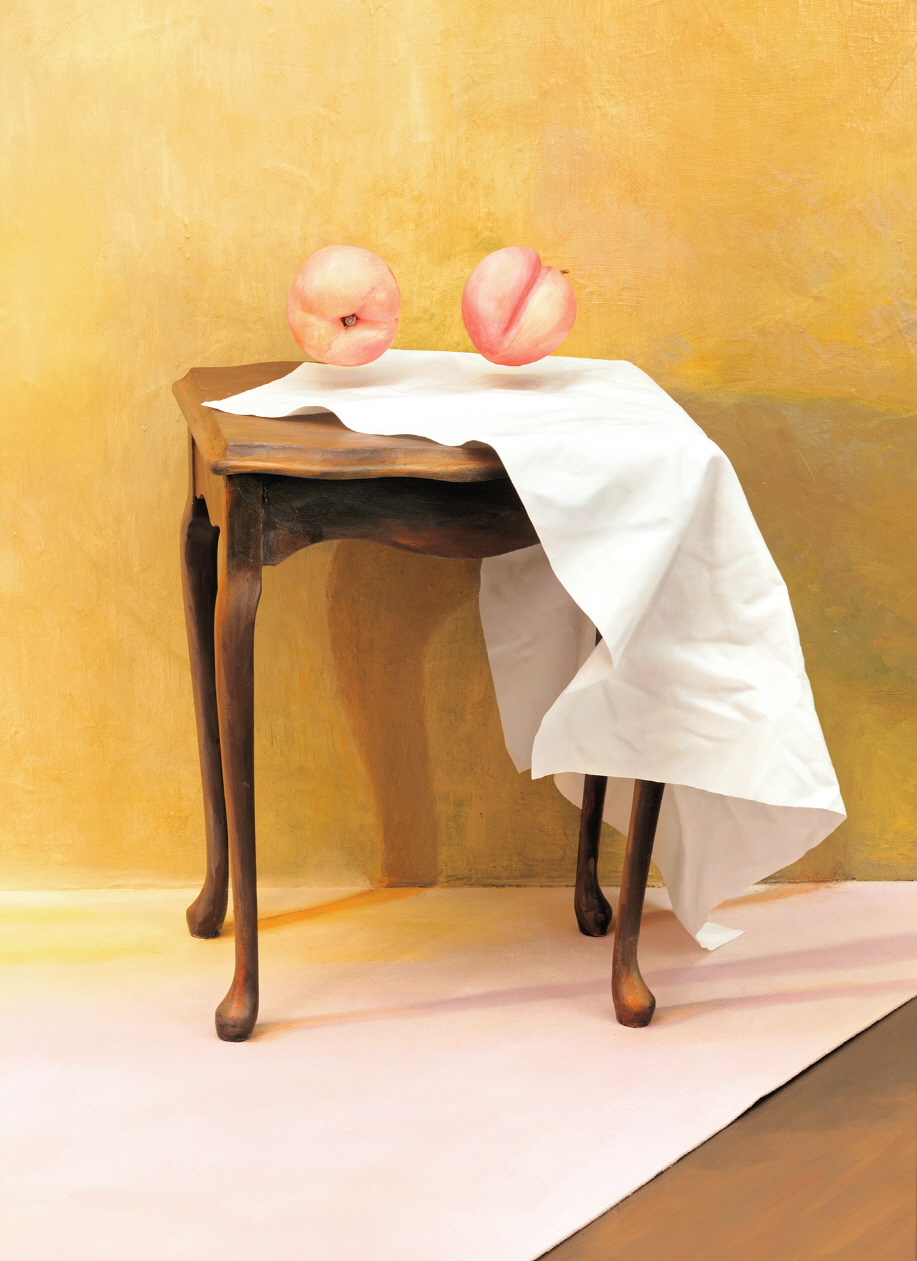 수밀도, 142x100cm, C-print, Edition of 3, 2008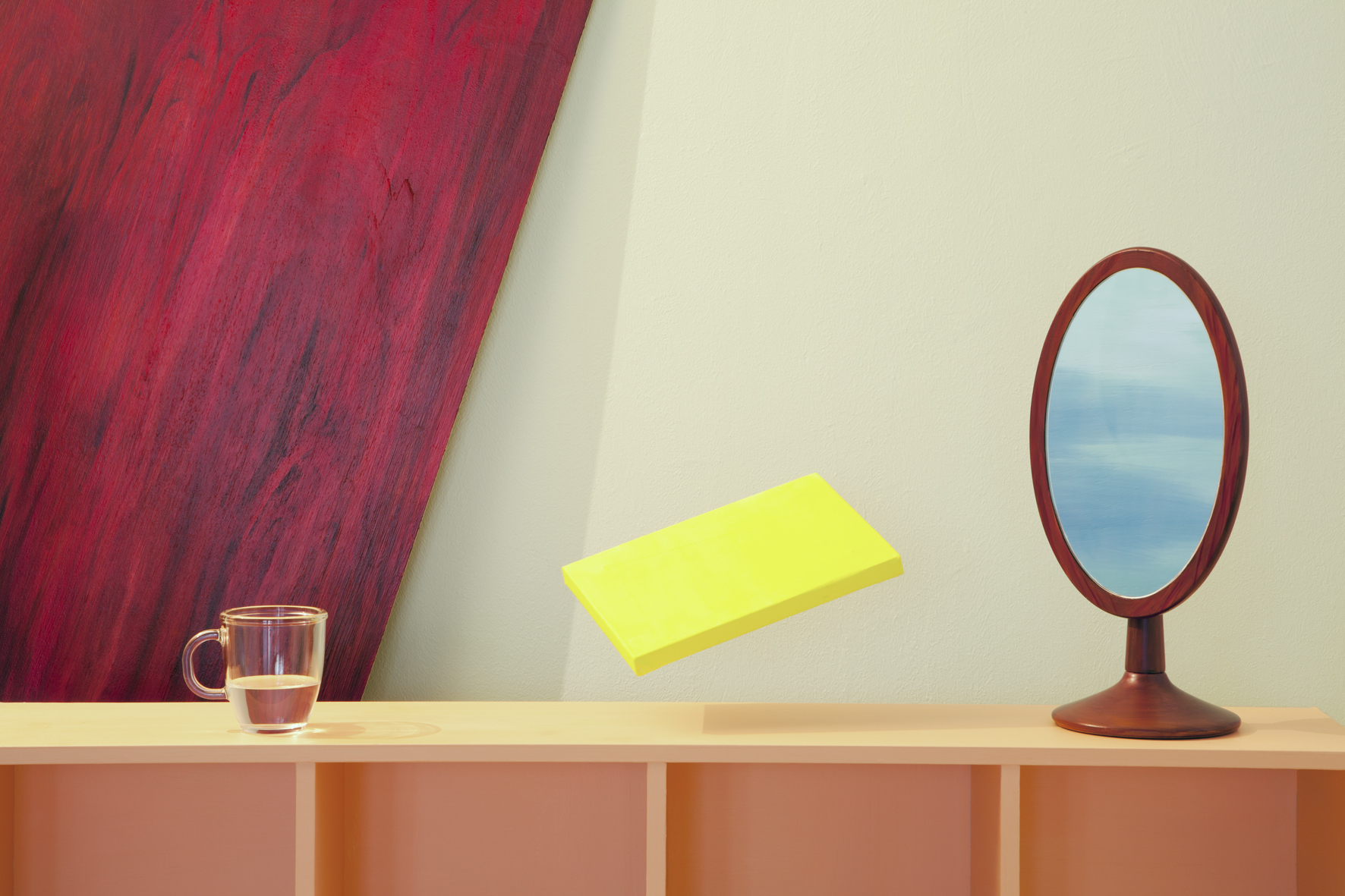 Canvas No.1, 100x150cm, Inkjet, Edition of 3, 2013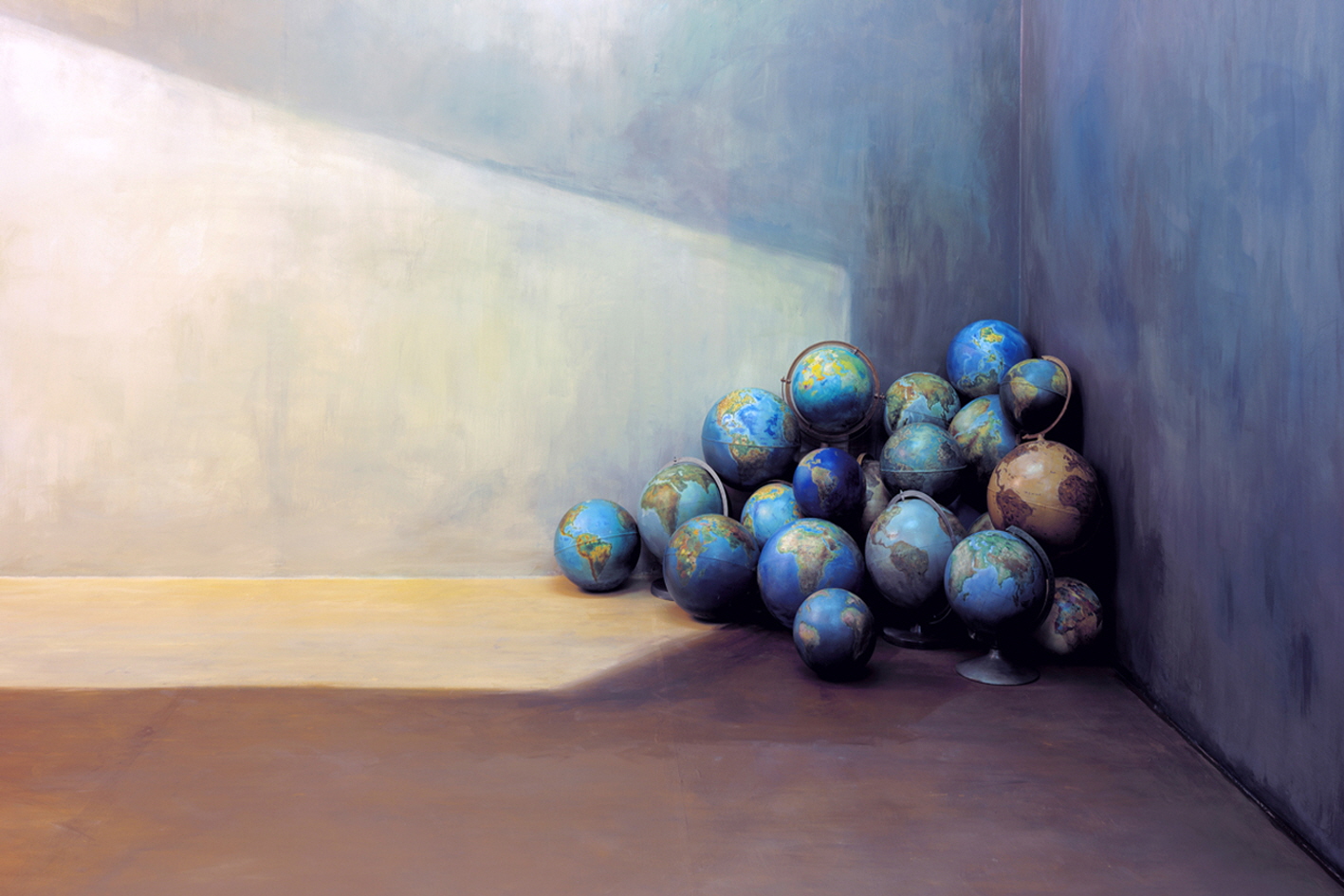 대지구, 173x268cm, C-print, Edition of 3, 2000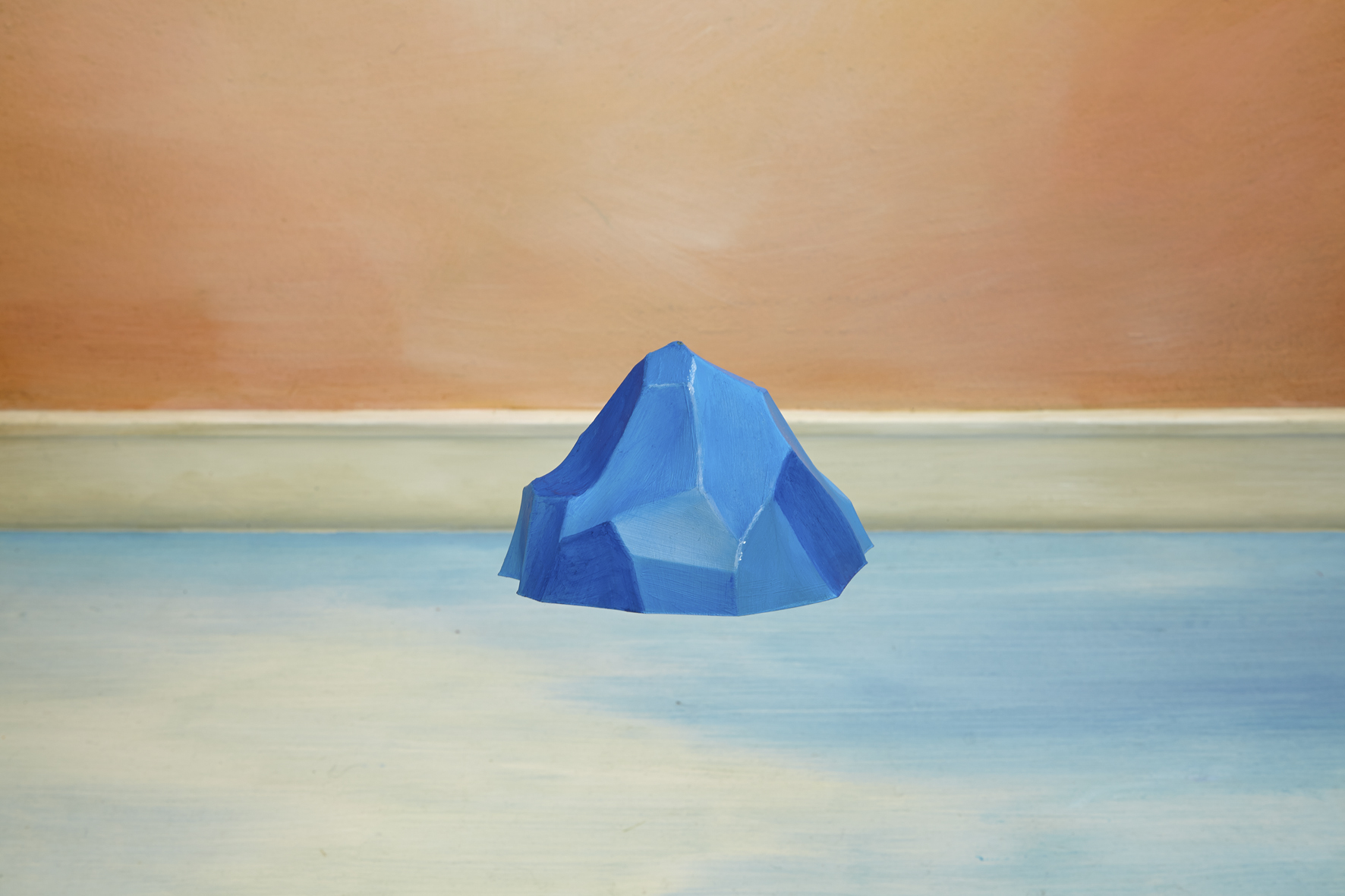 Iceberg No.1, 145x217cm, Inkjet, Edition of 3, 2013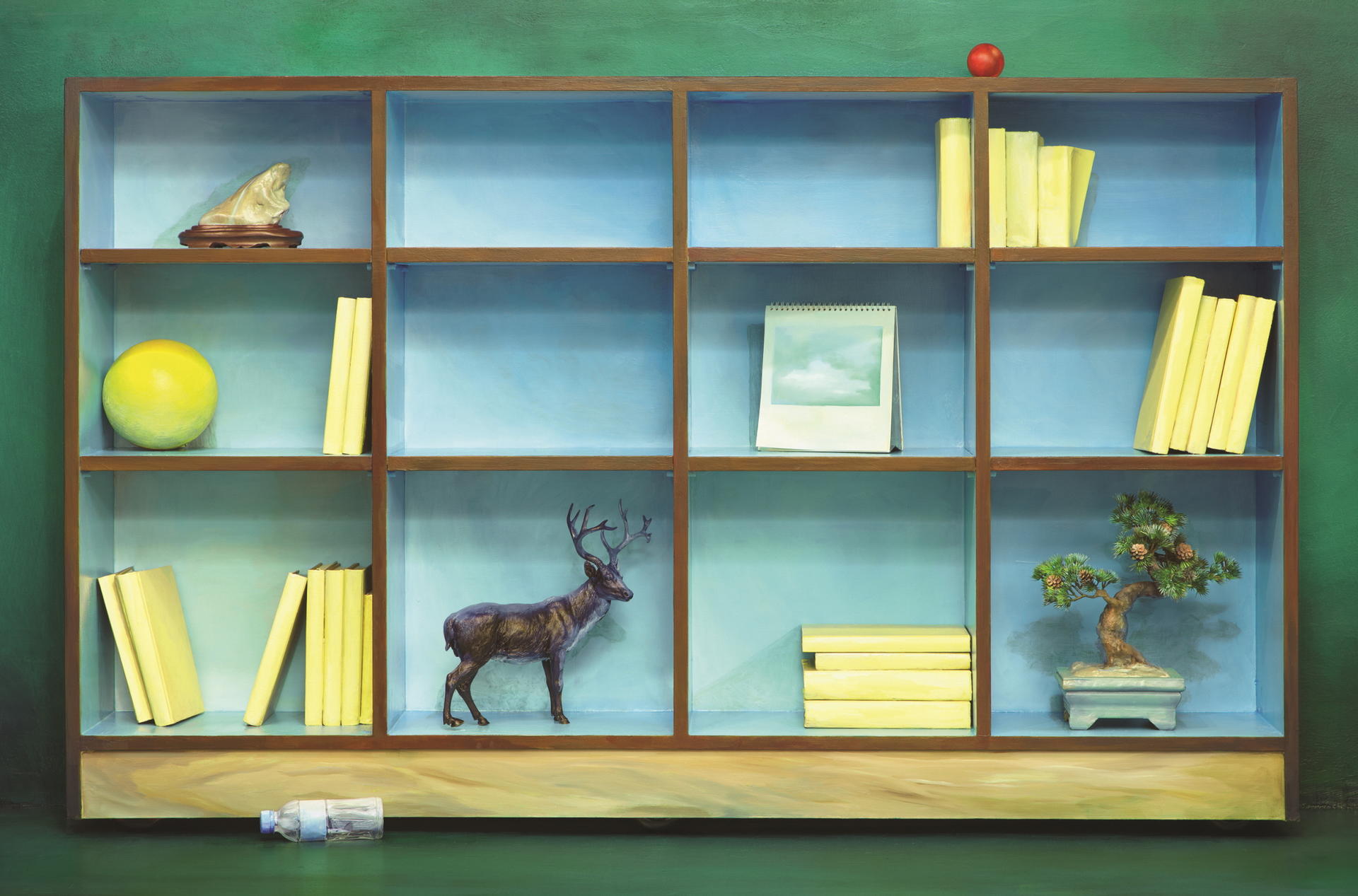 십장생 책가도No.3, 99x150cm, C-print, Edition of 3, 2011

Cosmos in studio, 195x650cm (195x130cm for each piece), Inkjet, Edition of 5, 2014